10 Vital Vastu Tips For Your Living Room
In any house, the living room is the main area for socializing. Therefore, it not only needs to look attractive, but also should have a pleasant ambiance filled with positive energy. While beautiful and modern living rooms can be designed with the help of a professional interior designer, enhancing the positivity in the environment using the ancient Indian system, Vastu Shastra, can go a long way towards making the space more enjoyable both for your family as well as visitors.
While you can consult a Vastu professional for eliminating negativity and bringing positive energy to your living room, we at homify, have put together this ideabook with some easy-to-implement tips that you can undertake on your own to bring happiness, health and success to your home.
1. The right location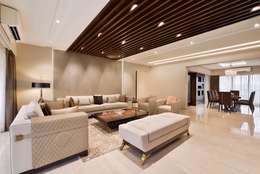 Vastu prescribes the ideal location of every room within a house to balance the five elements – air, water, fire, earth and sky. The most beneficial place for the living room is in the North. However, in 
modern houses
 and apartments, this is not always possible. The east and southwest are suitable too. While the northeast is also a good direction for the living room, this space is usually reserved for divinity and is best used as a meditation area or a pooja room.
2. The placement of the door
3. The placement of the furniture
4. The position of the head of the family
5. The television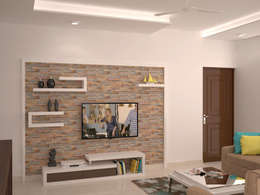 The best place for the television in a living room is in the southeast. Avoid placing it in the northeast as this is the area that is associated with god. If it is placed in the northwest, the family will spend too must time watching it instead of bonding with each other. Similarly, if the TV is in the southwest, it is likely to break down very often.
6. Decorate with the right elements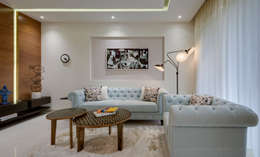 The northeast wall or corner of the living room is the ideal place for paintings or sculptures of god. Eliminate any source of negativity in the living room. Especially avoid paintings or pictures of war, poverty, grief or any other scenario that depicts negative energy. Similarly, avoid using dried or artificial flowers and cactus in the living room.
7. The colours
8. Keep the best shapes
9. Illumination
10. An aquarium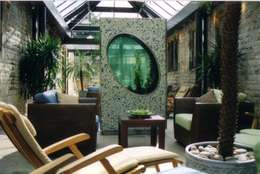 In Vastu, an aquarium is a powerful tool that helps to remove negativity from the home. However, it should be kept in the right place as it could otherwise drain away the positive energy inside. In a living room, the east, north or northeast are the preferred directions for placing an aquarium. Avoid placing an aquarium in the south as this will draw away the positive energy from the home.
Source Article: https://www.homify.in/ideabooks/4808522/10-vital-vastu-tips-for-your-living-room